SugarCRM is excited to announce the release of Sugar Enterprise 13.0 for on-site customers.
This update highlights some of the key enhancements and updates in this release of Sugar Enterprise. Make sure to read the Q2 2023 page in Release Central to find all of the most important information to prepare for updates across the entire Sugar platform in one central place. Easily access new blogs and updates, events, videos, release announcements, and more, across recent, current, and upcoming releases. Make sure you also have notifications turned on for Release Central to be notified about updates across the entire Sugar platform!
This release coincides with the Q2 2023 release of Sugar Sell and Sugar Serve for instances hosted in Sugar Cloud and incorporates features and enhancements from the preceding Sugar Cloud quarterly releases (Q3 2022, Q4 2022, and Q1 2023).
In this announcement
Watch the following video to hear from Ellen True, Sr. Director of Product Management, as she gives a quick showcase of some of the updates in this release, and then continue reading below to dive deeper into more of the new functionality that is now available.
Feature & Enhancement Details
Navigate the completely redesigned user interface
Sugar Enterprise has an updated look and feel! The new user interface is based on direct customer feedback, research, and design best practices – and we couldn't be more excited to share it with you. This redesign also supports platform adoption and productivity; a more cohesive UI structure across the entire Sugar platform; and a cleaner, simplified, and familiar interface that resembles other modern interfaces. Some of the updates include the following:
The navigation bar has moved to the left side of the screen. This is where users will now find their modules, the quick create menu, the home button, and more. The navigation bar is compact, displaying your top 4 modules by default, to enhance focus, reduce visual noise, and lighten your mental load. It can be expanded to locate additional modules and see more details when needed. Users can also choose to set the number of pinned modules displayed in their navigation bar so they can decide how many modules are visible at all times.
Global Search has been expanded and is now conveniently located, front and center along the header of the screen.
Use more vertical screen space now that the site footer has been removed. The options in Sugar's footer (e.g., Doc Merge) have been moved into the user menu and the bottom of the left-side navigation bar.
Focus on your top modules with the new navigation bar displaying your most important modules with a new compact design. This new design enhances the user's focus on their primary modules and can be expanded to show all modules when needed.
Module icons are now configurable with an updated icon library allowing modules to be represented by icons in the navigation bar and throughout Sugar. The icons, colors, and abbreviations can be configured along with the module names by administrators in the Module Names and Icons menu.
SugarOutfitters link added to Sugar: A link to SugarOutfitters, the SugarCRM marketplace with a vast selection of third-party solution add-ons, has been added to the Help pane and the Administration page.
For more in-depth information about the benefits and details of the UI redesign, please review the UI & Usability Updates section of the "Coming Soon: Enterprise 13.0 On-Prem Upgrade!" post.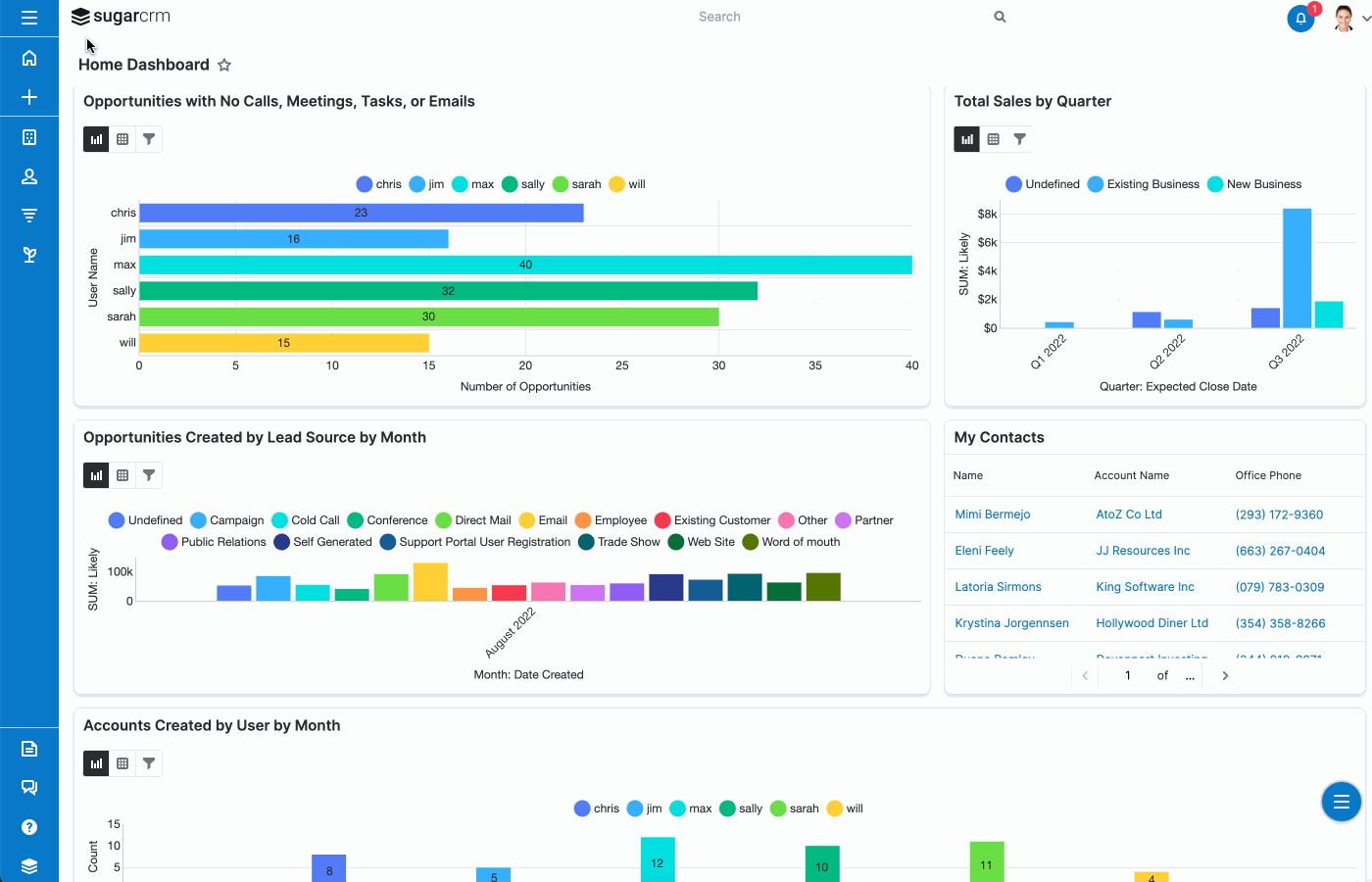 Tabbed browsing within focus drawers: New Focus Drawer Tabs improve usability by allowing users to easily view and obtain all the information related to any record within the focus drawers. Record links in focus drawers open the focus record view in a focus tab within the drawer providing a breadcrumb for users instead of needing to open separate windows or use the browser "back" button. For a deeper dive into these exciting and helpful updates to focus drawers, read Everything You Need on One Screen: Introducing Even Better Focus Drawers.
List View Filters include new operators and new available filters by default: Two new filters for "Is empty" and "Is not empty" have been added to the List View search. Also, the Accounts, Cases, and Opportunities list views now have more fields available by default for filtering. See the Sugar Enterprise 13.0 Release Notes for the full list of updates!
Metric Tabs: Available at the top of the Service and Renewal consoles, these ribbons provide a holistic view of the metrics and associated records. They can be created and configured by admins to suit the needs of your organization.
Report Viewer Enhancements
After working with our customers and compiling excellent feedback, the Reports Viewer gets a new user experience in this release. The steps to create a report are the same as in previous versions of Sugar and existing reports do not need to be modified to take advantage of these improvements. Users will see these changes and more on all existing and future reports:
Updated User Interface: A new, modern look and feel, giving more space to the important data on the screen allowing users to quickly and easily access what they need. The experience focuses on the three primary reports containers: Charts, Data Tables, and Runtime filters. This simplifies the interactions and view options by allowing users to toggle containers on or off, as well as change the size of the split between the chart and data table to their needs.

Filters have been moved to the right side of the screen for easy access to edit the report results. Filters are also displayed as a visual diagram instead of text to make understanding the applied filters more natural and intuitive.
Customizable View: Users can now change the size and positions of the chart, data table, or filter containers. Elements can also be minimized to hide from view when not in use.

Enhanced performance to view and export large reports: Report data tables are now displayed in a simplified, lightweight mode to speed up loading time and avoid possible browser timeouts when loading larger reports.
Charts are now included with scheduled report emails: Scheduled report emails now save users even more time with the inclusion of charts with the email. Having regularly scheduled reports emailed to various audiences saves users time and creates a cadence of regular data review. This release gives recipients even more valuable information quickly and easily within their inboxes, saving the clicks of navigating to Sugar to simply view a chart. The chart can also be configured to be included in the email body or as an attachment (or both), allowing the recipient to easily access the chart in their preferred manner.
Report Dashlet revamped and renamed: Now includes several helpful features represented in a tabbed view, including the ability to display Reports without charts, the ability to toggle between showing the Data Table on a dashlet or the chart (if available for the report), and the ability to use run-time filters to adjust the report results from the dashlet view while you work. In previous versions, this was called the "Saved Reports Chart Dashlet."
Serve Capabilities Added to Enterprise
The power of Sugar Serve is now available in Enterprise! Previously only available for customers hosted in Sugar Cloud, the functionality provided in Sugar Serve is now available for service representatives using Enterprise:
Service Console: Keep users organized and focused on the right priorities. This homepage dashboard provides a powerful work environment for customer service agents by incorporating SLAs and region-specific business hours, queues and metrics, insightful dashlets, and a cohesive case research and action experience.

Metric Tabs: Available at the top of the console, these ribbons provide a holistic view of the metrics and associated records. They can be created and configured by admins to suit the needs of your organization. (Also available in the Renewal Console)

New Modules, Fields, and Reports:

Change timers module: Captures how long a field remains in each state and can be reported on to identify trends in case processing
Case SLA and Bug resolution time fields: Track trends in first-response SLAs, case resolution time, and issue resolution time
Stock customer service reports: 29 stock reports have been added, focused on service-specific metrics

Stock customer service SugarBPM templates: Five process definition templates applicable to customer service use cases are now available
And More!
This is only a summary of all of the updates from Sugar. Please make sure to review the Sugar Enterprise Release Notes and the Q2 2023 page in Release Central to learn more about all of the new features and enhancements in this release, as well as additional fixes to address issues in previous releases of Sugar.
Upgrade Information
Sugar 13.0 will support new installations and upgrades from version 12.0.3 on all supported platforms. Customers hosting their Sugar instance on their own servers can review the installation and upgrade instructions for these releases in the Enterprise 13.0 Installation and Upgrade Guide.
Please visit the Supported Platforms page for a complete list of supported configurations, browsers, and other platform information before installing or upgrading.
Sugar 11.x End-of-Support
Sugar 11.x will reach its End-of-Support (EOS) date on April 30, 2023. All customers deployed on-site and still using Sugar 11.0 in production should review Important Notice - End of Support for Sugar 11 Instances, for more details.
Enablement, Education, and Everything Else You Need to Know
To learn more about this release, please review the Q2 2023 page in Release Central. Make sure to "turn page notifications on" to be alerted when new content is added to Release Central! Learn more about Release Central in About Release Central.
Select Documentation and Guides
---
To ensure you are up-to-date on the latest information about Sugar Enterprise, please Subscribe to New Blog Posts in Sugar Enterprise Updates in SugarClub or visit Product Updates for additional product updates.