Attn: Sugar Enterprise Customers
It's almost that time of the year again. Beginning in mid-April 2023, Sugar will make its annual release (in this case, the 13.0 release of Sugar Enterprise) available to all on-premises customers. If you haven't already started planning your upgrade process, now's the time! We have a ton of amazing features available in this release that you'll want to take advantage of. Here are a few of the new features and functionality highlights you can expect to see in this release.
UI & Usability Updates
Sugar recently redesigned the user interfaces for Sugar Sell, Sugar Serve, and Sugar Market. With the 13.0 release for Sugar Enterprise, available beginning April 2023, on-premises customers will also have access to these changes. Key focus areas for the redesign include further unifying the user interface across the entire platform to support Sugar's "One Platform" message, simplifying the layout, making the UI more familiar with other popular business productivity apps, bringing "Search" (the most-used Sugar feature) to the top-center of the page, and increasing the amount of visual real estate on the page.
The most noticeable change is a new left-hand navigation panel. According to the Nielsen Norman Group, applications with left-hand navigation enable users to accomplish tasks faster than traditional navigation panel placement. Left-hand navigation also easily translates to mobile devices, increases findability, and supports more efficient scanning, among other benefits.
In addition to the left-hand nav change, users will get access to rich Focus Drawer and console improvements, including persistent tabs and the ability to view complete records, which removes the need to open new windows. It allows users to view everything they need on one screen without searching for information across the platform. We also expanded the Record View dashlet, so users can see long email content, removing the need to resize screens.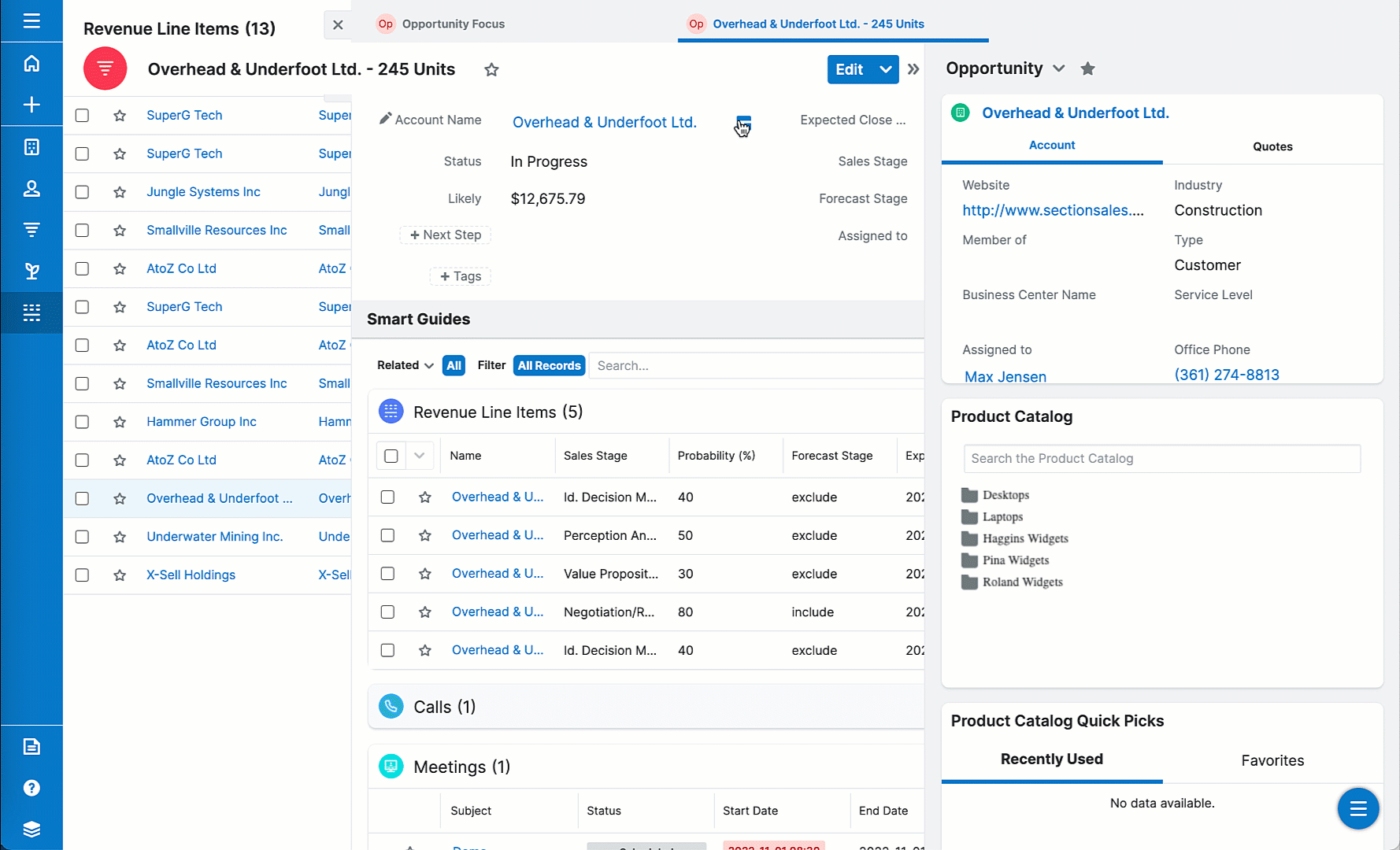 Reporting Improvements
Additionally, significant usability improvements were made to reporting this year, with a refreshed UI, new configurations and filters, and additional high-level and drill-down ways of viewing information in the platform. The Reports Viewer gets a facelift and several usability improvements this year, including the ability to:
Resize or toggle off the chart, data table, or filter containers

Minimize the containers and have the other elements adjust automatically

Freeze table headers to allow scrolling without losing the columns' names

Resize table columns for rows and columns reports
Finally, less-used report details and options are tucked away in the action menu, leaving more room for viewing your results.
All these improvements are designed to make sales reps (and sales managers) more efficient and productive.
And the new features keep coming. Report Dashlets can help you surface the data you need quickly. With the 13.0 upgrade, on-premises users can sort chart data the way they want and access data tables directly in the dashlet. Additionally, users can change reporting filters on the fly and view context-aware report results when viewing their records.
Speaking of analytics, users can now access new real-time metrics in the Renewals Console. Additional usability features are also available, including the ability to adjust column widths and access clickable links throughout.
Additional UI/Usability Improvements scheduled for April (also available in the April Cloud release) include:
More Report Viewer improvements- look, feel, and performance

Opportunity to configure the number of modules in the new left-hand navigation

Ability to see and edit related records lists via Focus Drawers



New & Improved Integrations
This year's updates include new and improved native integrations to keep sellers productive.
Dropbox cloud-drive integration

: Sugar's cloud drive integration now supports Dropbox, allowing users to interact with Dropbox files via the Cloud Drive dashlet from any dashboard in Sugar.

Several DocuSign enhancements, including status notifications:

Users can now receive status notifications in the Notifications module whenever the status of their assigned DocuSign envelopes changes.

Customer Journey Plug-in has been wholly rebranded Sugar Automate and is a fully integrated module in Sugar Enterprise.

You may have also noticed that the SugarCRM mobile app now has integrations with several 3rd party document storage providers. Email, calendar, and meeting improvements have also been made in the mobile app this year.
Forecasting Updates
Forecasting updates were a particular focus throughout the year, including a new pipeline review experience and responsive metrics.
Forecasting Updates:

The Forecast module has been updated to give managers a more comprehensive view of their team's deals. In addition, managers and sellers can see the most up-to-date version of deals and use improved filters on the Forecasting Worksheet. Some of these highlights include:

Pipeline Review:

Managers can now see every deal within their organization at a glance. Forecasts now also

display Opportunities

instead of Revenue Line Items, allowing users to evaluate deals as a whole. During sales calls, managers can inspect their team's deals using Focus Drawers, which are accessed directly within the Forecasts module.

Responsive Forecast Metrics: Responsive metric tabs have been added to the Forecasting Worksheet to help users further evaluate their deals. With one click, users can get immediate insight into the number of deals in various stages and the total revenue without creating separate reports.
Additional Deal Filtering:

Users can add another layer of filtering by using their regular Opportunities List View filter on top, which will recalculate the metric values specifically for the filtered criteria.
New Service Features Now Included!

For customers that need access to additional service features, you'll be excited to hear that we're bringing several previously Sugar Serve-only features into Enterprise with the release of 13.0. The following new features will be included:
Service Console

Change Timers module

Out-of-the-Box Service SugarBPM Templates

Out-of-the-Box Sell SugarBPM Templates
Out-of-the-Box Reports, including:
All Cases Due Today and Overdue

All Open Cases by Followup Date

Average Difference From Follow-Up Date by Week by Agent

Average Time to First Response by Agent

Average Time to Resolution by Week by Agent

Average Time to Resolution by Week by Type

Cases That Missed the First Response SLA

Daily Average Time to First Response

First Response SLA Success Rate

List of Changes to Case Status

List of Recently Resolved Cases

My Average Difference From Follow-Up Date by Week

My Cases Due Today and Overdue

My Cases in the Last Week by Status

My Cases Resolved this Month by Week

My Open Cases by Followup Date

My Open Cases by Status

My SLA Success Rate

New Cases by Business Center by Week

New Cases by Customer Tier by Week

New Portal Users Awaiting Activation

Open Cases Awaiting First Response That Missed SLA

Open Cases Awaiting First Response Within SLA

Open Cases by Customer Tier and Priority

Recently Created Cases

Status of Open Tasks Assigned by Me

Total Cases Resolved this Month by Agent

Total Cases Resolved this Month by Business Center

Total Time Spent on Cases by Week by Case Type
Customer Webinar, Coming Soon!
These are only a few highlights from the upcoming 13.0 release, representing a huge leap forward in Sugar's user experience and ease of use. Join me (Katie Moss) and our Sell and Serve product management leaders for our Enterprise customer preview webinar on March 16th, 2023 to learn more.