SugarCRM is excited to announce the release of Sugar Sell Q1 2023.
This release represents a significant update to the Sugar user experience. Among many other exciting updates, the Q1 2023 release introduces Sugar's redesigned user interface, designed with a combination of customer feedback, design best practices, and extensive research. Below, you'll find more details about this redesign, other new features in this release, and ways to learn more about how these changes can be leveraged. Make sure you also have notifications turned on for Release Week to be notified about updates across the entire Sugar platform and for more valuable updates that are coming soon.
What is in this announcement?
Watch the following video to hear from Ellen True, Sr. Director of Product Management for Sugar Sell, as she gives a quick showcase of some of the updates in this release, and then continue reading below to dive deeper into more of the new functionality that is now available.
Feature & Enhancement Details
Easily navigate your way through Sugar with a completely redesigned user interface
Sugar Sell has an updated look and feel! The new user interface is based on direct customer feedback, research, and design best practices – and we couldn't be more excited to share it with you. This redesign also supports platform adoption and productivity; a more cohesive UI structure across the entire Sugar platform; and a cleaner, simplified, and familiar interface that resembles other modern interfaces. Some of the updates include the following:
The navigation bar has moved to the left side of the screen. This is where users will now find their modules, the quick create menu, the home button, and more.
Global Search has been expanded and is now conveniently located, front and center along the header of the screen.
Use more vertical screen space now that the site footer has been removed. The options in Sugar's footer (e.g., Doc Merge) have been moved into the user menu and the bottom of the left-side navigation bar.
Focus on your top modules with the new navigation bar displaying your most important modules with a new compact design. This new design enhances the user's focus on their primary modules and can be expanded to show all modules when needed.
Module icons are now configurable with an updated icon library allowing modules to be represented by icons in the navigation bar and throughout Sugar. The icons, colors, and abbreviations can be configured along with the module names by administrators in the Module Names and Icons menu.

For more in-depth information about the benefits and details of the UI redesign, please review the Additional Documentation & Release Notes section of this post.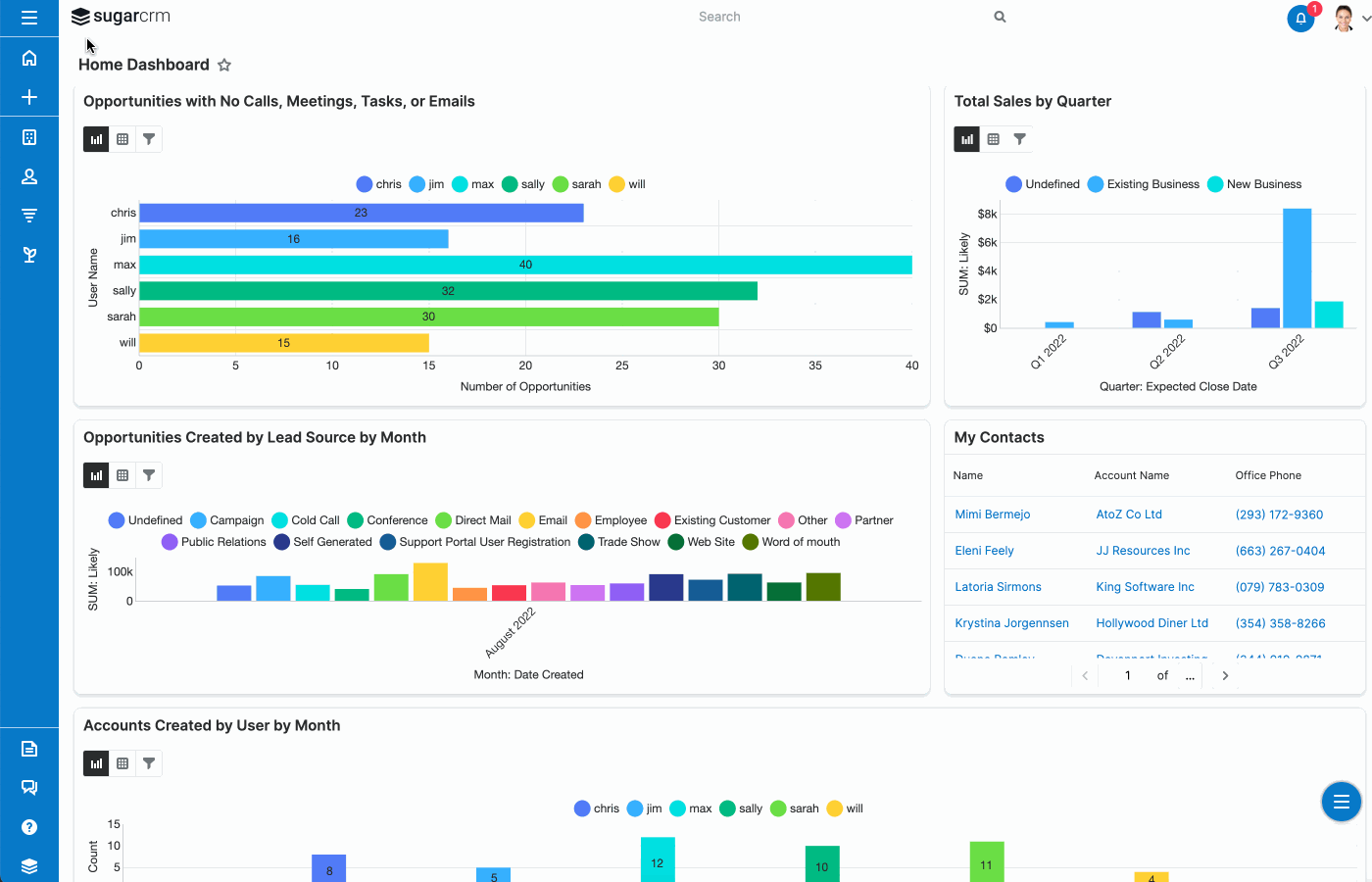 New Focus Drawer Tabs improve usability by allowing Sales representatives to easily view and obtain all the information related to any record within the focus drawers. Record links in focus drawers now open the focus record view in a focus tab within the drawer so that users have one view for all customer information. These tabs provide a breadcrumb for users instead of needing to open separate windows or use the browser "back" button.
For a deeper dive into these exciting and helpful updates to focus drawers, read Everything You Need on One Screen: Introducing Even Better Focus Drawers.
The Renewals Console provides users with an improved and more efficient experience, thereby improving the sales team members' ability to deliver superior experiences to customers.
Easily access more related record data in focus drawers: Sales representatives will significantly speed up access to related information to records on the console, without having to leave the console, open multiple browser tabs, or search the system. They can now click on any of the record links on the multiline list view & Overview tab to open the record view within the focus drawer on the console. Clicking on the title in the Record View dashlet will also open the corresponding record view.
See the data you want by resizing console columns: Users can now resize the column widths based on their needs in the console's list view.
Sugar Automate, formerly the Customer Journey Plug-in, is now completely built into Sugar Sell and can be enabled by entering a license key in either SugarCloud Settings or User Management instead of having to maintain a Module Loadable Package. Moving Sugar Automate into the core code will ensure a smoother maintenance pathway for customers.
No actions are needed by administrators upon upgrading to Sugar Sell Q1 2023 as the old package will be automatically removed and the experience for Automate users will experience identical behavior after the upgrade as they had prior. Users without an Automate license will not see any difference in their user experience.
Sell Premier now provides a single visualization that combines data from multiple modules, allowing users to visually track how forecasts, commitments, and sales evolve over time, compared to their current quota.
Please note: this capability requires implementation by a SugarCRM representative or partner.
And More!
Review the Sugar Sell Release Notes to learn more about all of the new features and enhancements in this release, as well as additional fixes to address issues in previous releases of Sugar.
When Will I Be Upgraded?
Customers will receive further communication regarding their automatic upgrades shortly, per the SugarCloud Policy Guide - Upgrade Policy. This release represents the next step in the SugarCRM quarterly feature delivery model, delivering innovation for customers hosted on SugarCloud. Please visit the Supported Platforms page for a complete list of supported browsers.
Additional Documentation & Release Notes
To learn more about this release, please review the following content:
Q1 2023 Release Week | January 23, 2023 - Make sure to "turn page notifications on" to be alerted when new content is added to the Release Week page in SugarClub! You can also learn more about Release Week in Release Week Returns in the New Year!
Documentation and Guides
Blogs, Announcements, and more
Webinar Recordings: Members of the Sugar team hosted various webinar sessions to share what's coming with the UI redesign and answer questions from our customers. These sessions can now be viewed on demand:
Learn More in Your Native Language
Sugar Q1 2023 Developer Resources
Our Developer Advocacy team has made available the following resources to assist developers with the changes associated with this release:
Any additional questions should be directed to the Dev Club in SugarClub or emailed to developers@sugarcrm.com.
---
To ensure you are up-to-date on the latest information about Sugar Sell, please Subscribe to New Blog Posts in Sugar Sell Updates in SugarClub or visit Product Updates for additional product updates.