The SugarCRM quarterly release is an outstanding moment to share our teams' accomplishments in our continuous efforts to drive memorable CX and achieve a single customer view across all platforms.
Q2 2023 is no exception. For a better user experience in Sugar Market, we upgraded both the Events and Email Builder features and improved nurture performance. Advanced Analytics also offers a revamped look and feel to help you capture critical insight into your marketing performance and drive revenue.
We want you to click less and sell more. The Q2 release also marks UI innovations such as an improved report viewer and display features for Sugar Sell, Serve, and Enterprise. Improvements were made to the email and calendar, and we have implemented a new DocuSign experience mobile-matches desktop. Also, as promised last quarter, most Sell and Serve capabilities are now available for our Enterprise customers.
You can just read on to see the most impactful improvements of our 13.0 (Q2 2023) release.
Market
Events User Experience Improvements. With Q2 2023, we are creating a simpler Event Management experience for our users.
Our goal is to shape a more enjoyable experience, modernizing the interface and aligning the design elements of Events with the rest of the modules so users don't feel disrupted when navigating the platform.
Creating an event is now an intuitive experience, and easier for users to follow the steps needed to create or manage events, add sessions, members, landing pages, emails, and more.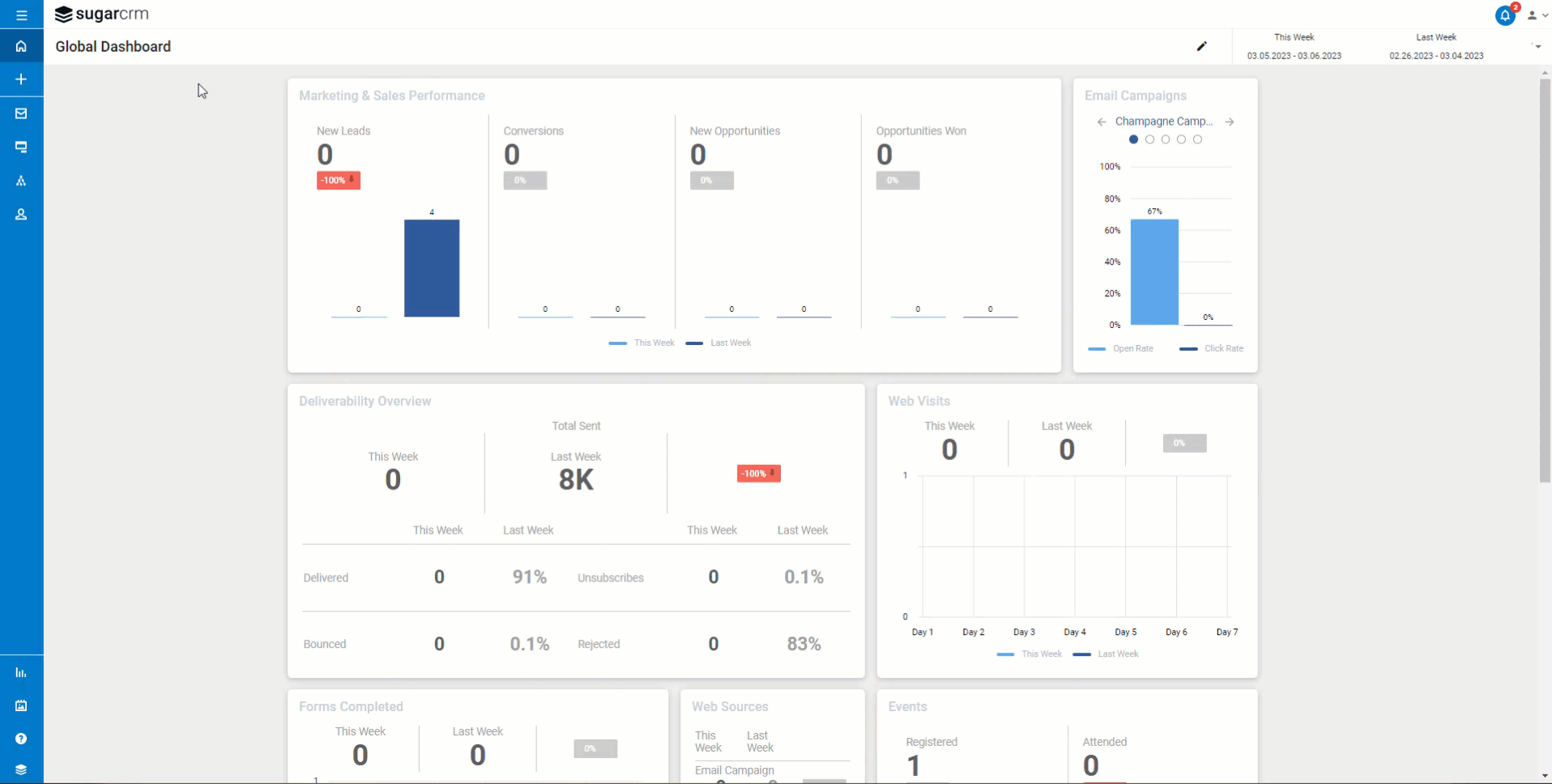 Email Builder Improvements. Marketers demand high-impact first-impression emails that grab the recipient's attention. Based on a user group survey conducted last year, we wanted to create more flexibility around email design. We've updated our Email builder tool, enabling users to control spacing and padding elements when creating emails. Being able to customize your emails boosts your creativity and strengthens your brand identity.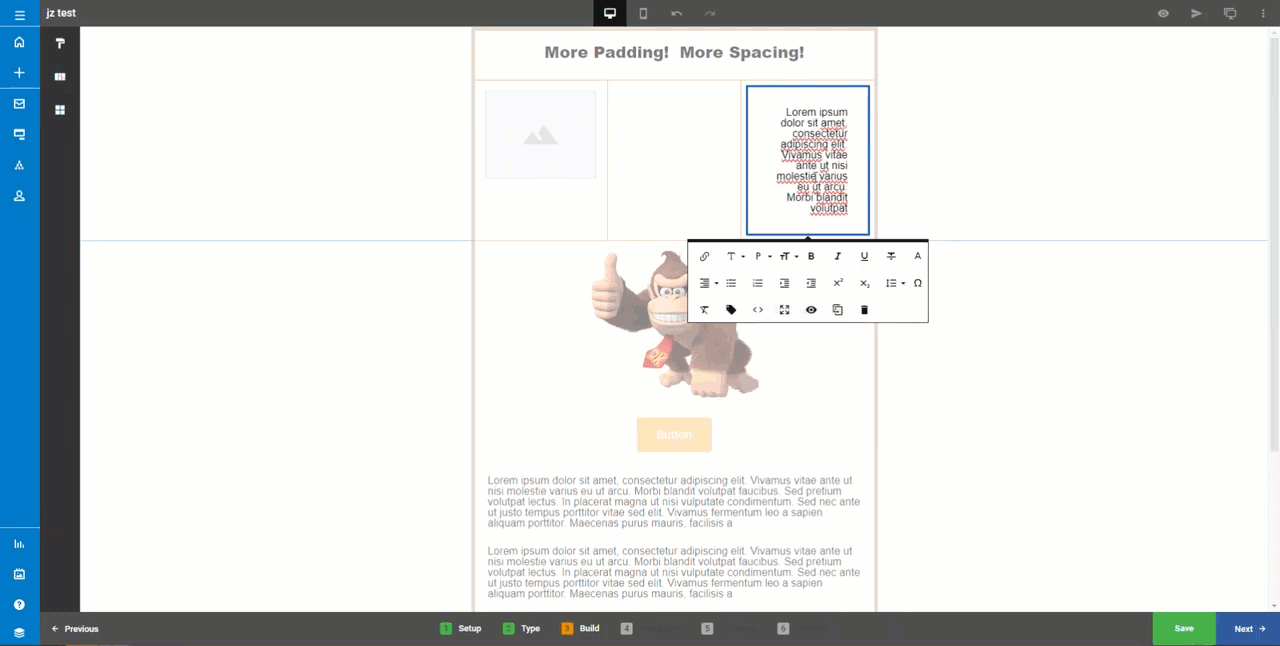 With larger icons, it's now easier to select options, and we have introduced a vertical text alignment option for elements within a row. We also removed the margins option for rows to avoid confusion and streamline the solution.
With Sugar Market's new enhancements, you make your events more effective and improve your marketers' ability to measure the outcomes of their efforts, optimize lead capture processes, and centralize control of nurture campaigns. Sugar Market's new email-building capabilities can help you create those great-looking emails to drive engagement and build long-lasting relationships with your audience.
Sell, Serve, & Enterprise
Focus Drawers Improvements: In-line Edit Lists. We are committed to automating everything, and we've promised to minimize busy work, so now it's possible to do in-line edits of the related records in the list view tab of a Record View dashlet. Rather than manually locating each record and traversing multiple screens, users can make any necessary changes through the focus drawer.
Watch the video below to see these improvements in action.
Set the Number of Pinned Modules to the Navigation Bar. You spoke, and we listened. Until now, users could not add more than four modules to the navigation bar, which we realized wasn't enough.
The left-hand module number is now configurable, and users or admins can set the number of pinned modules displayed in their navigation bar so they can choose how many modules are always visible.
You can apply this company-wide or enable the Number of Pinned Modules control to appear in the User Profile configuration so individual users can select the number of modules in the navigation bar according to their preferences.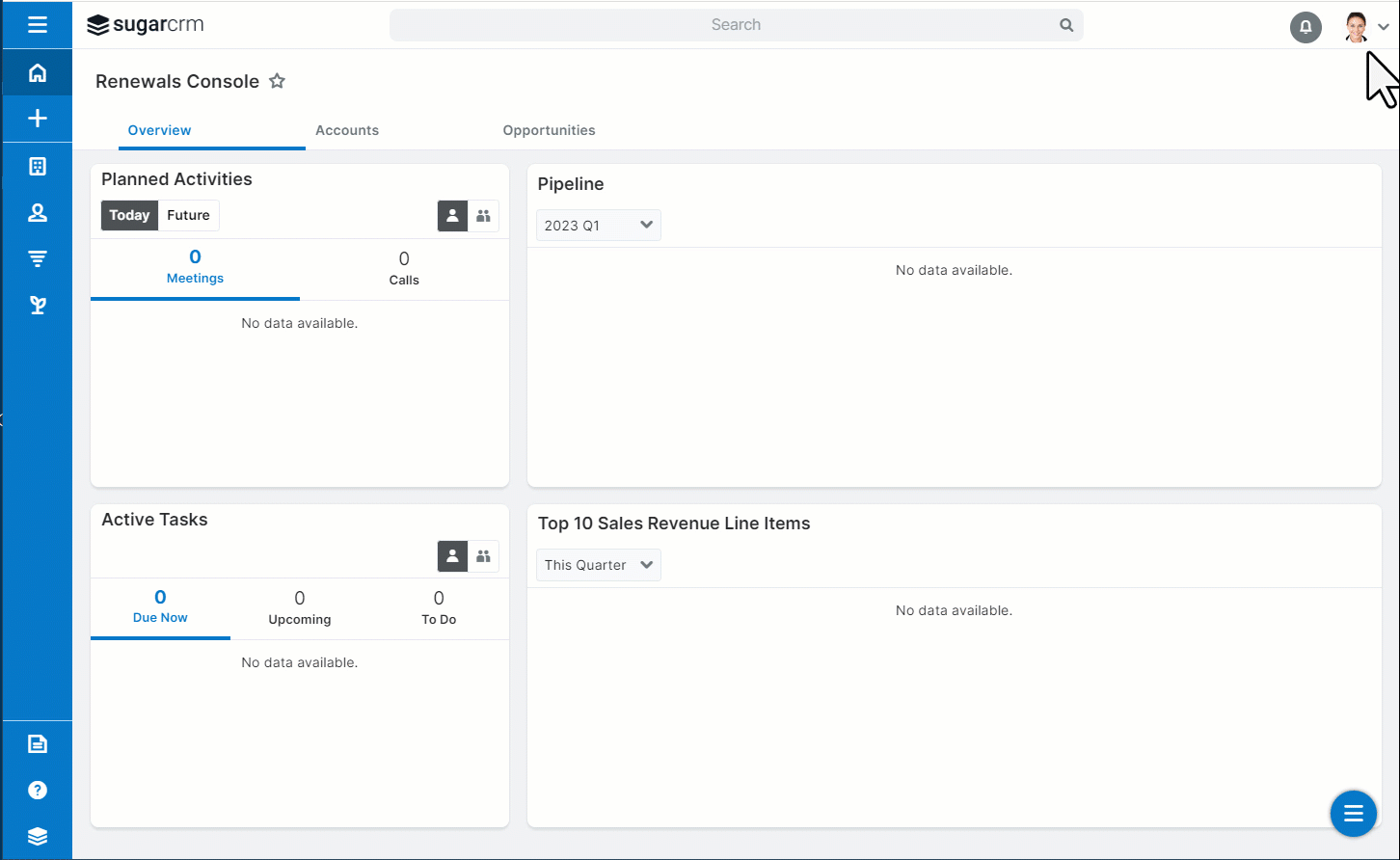 Reports Viewer New Look and Feel. How our customers utilize the Sugar platform to grow their business influences our approach to enhancing our products. In this release, we've updated the reports module results view to provide a clean and intuitive user experience. Now you can:
control which report elements are visible by toggling the chart, data table, and filters on or off.

choose whether to arrange the chart and data table in a vertical or horizontal layout —when the chart and table are shown simultaneously.

drag the divider line between the chart and data table to change the two components' relative size, making it easy to customize your report's display.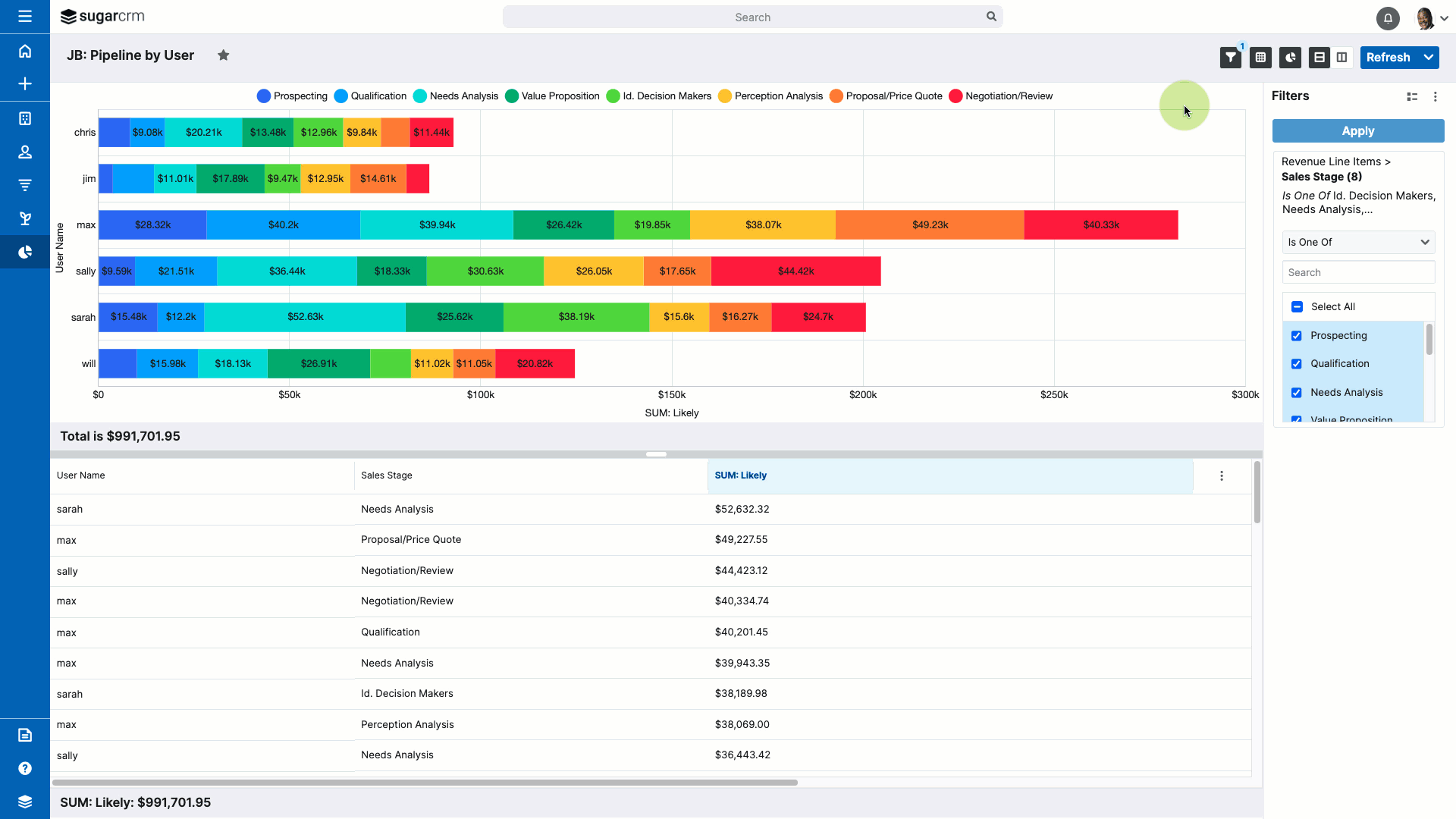 Want to Learn More?
We've consolidated our approach to keeping you up to date on what's new in Sugar's products.
Whether you are a user, admin, or developer, Release Central is the virtual hub to go for easy access to blogs, updates, events, videos, release announcements, and more for all past, current and future releases.