Get laser-focused context
Tired of relying on back and forth email that gets lost in an ever-growing inbox of priorities? Or need to reference actual customer data to make decisions across your team?
Sugar's activity stream allows users to view a list of activities performed on your CRM records, create posts, preview posts, and add time-stamped comments on posts to alert others.
Turning On Activity Time View on a Record
Simply access the activity time-view in your Sugar record as below to get started. In this example we can see all updates as they relate to an Account:
Message Your Team Members for Input
Using the "@" symbol, start typing in the name of the team member you'd like to notify about this record or tag a different related record with the "#" as well.

Your team member is alerted in the Sugar Notifications icon as below located to the right of the Search Bar.
Optionally, email alerts can be turned on as well each time a comment is sent to a user:
Maximising Collaboration On-the-Go
The great news for users that find themselves rarely in-front of their computers, is that Activity Stream is available on Sugar Mobile as well! Simply access the main activity stream view, or the related activity stream view on records as below.
Accessing the activity stream on a record: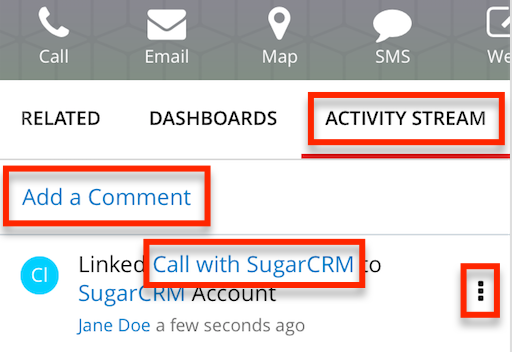 Bonus Pro-Tip: Emailing and Text Message Sharing from Sugar Mobile
Another useful action commonly used on mobile is record sharing. Ever needed to share contact details and additional information while directly accessing a record in Sugar?
To share the entire record, use the Share option from a record's detail view. A link to the record can then be sent via email, text message, or any other method depending on your device's sharing options. From the desired record's detail view, tap the vertical ellipsis icon on the top right then select "Share" from the More Actions menu.