You already know that SugarCRM is the perfect tool to align your marketing, sales, and support teams to build your pipeline and drive revenue, but did you know you can push SugarCRM to the next level by taking advantage of our new TextExpander integration?
TextExpander is a typing shortcut tool that helps you write faster. You can save any type of text into TextExpander—words, phrases, paragraphs, codes, URLs, emails, and even entire book chapters.
For each text fragment you save (we call these Snippets), you assign it a keyboard shortcut or abbreviation. From then on, whenever you want to insert the saved text, all you have to do is type the abbreviation and the full Snippet will appear.
TextExpander also features inline search so you don't have to remember every Snippet abbreviation, which also turns TextExpander into your personal knowledge library.
​​TextExpander saves the average user 31 hours per month, and companies like Dropbox, Linsode, Shopify, SketchUp, and Uber depend on TextExpander to supercharge their teams and save hundreds of labor hours per month.
Sign up for a 30-day free trial of TextExpander today and install their SugarCRM sample Snippet Group to try it out for yourself! Here's how to install the Snippet Group in TextExpander:
Click the

example Snippet link

.

Sign in to your TextExpander account.

Click Subscribe to add the Snippet Group to your account.
Once installed, you can view the SugarCRM Examples Snippet Group by opening the TextExpander desktop app and looking under Shared in the sidebar.

Enter Titles in SugarCRM in a Snap
Let's start with a simple demonstration of what TextExpander can do.
How many times per week do you type Director, Manager, Vice President, or any specific job title? We've included three Snippets to speed up typing those common titles, saving your team time and downtime from repetitive stress injuries:
scvp: Vice President

scdi: Director

scm: Manager
Try these in a Title field in SugarCRM.While these may seem like small Snippets, when you consider a typing speed of 40 words per minute and 30 times typing them per day, you could save 100 minutes per person per week just using these three Snippets!
You could create more Snippets for other titles, like Account Executive, Account Manager, and Sales Manager.
Consistent Tagging
Tagging in SugarCRM helps you add freeform data that isn't a perfect fit for any other field. But keep in mind, tags work best when they're consistent.
For instance, if one account executive tags a lead with "qualified" to denote a qualified lead and another AE tags accounts with "ready," you're not going to see all of your qualified leads by clicking "qualified."
TextExpander can ensure that those tags are not only consistent but quick to enter.
With our sample Snippet Group installed, enter a Tag field and type "sctag." A new window appears with options for:
Marking whether it's a new or existing account

The account size: SMB, SME, or Enterprise

Whether the lead has been qualified

Answering if the lead is ready to buy

Denoting if the customer insists on a discount
Simply make your selections…
And the Snippet automatically fills in the correct tags.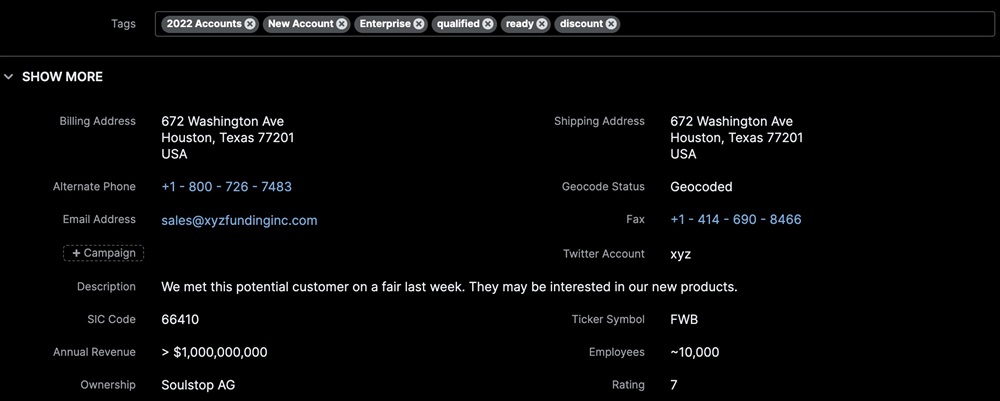 To customize the Snippet for your organization, right-click it and choose Duplicate to add a new copy to your Snippet Library that you can edit.
Automatic Customer Notes
SugarCRM's Description field gives you a spot to jot down customer notes. TextExpander can help automate that process.
Enter the Description field and type "scdsc." A new window appears with options to fill out. Here's a tip: try the included "scdate" Snippet to automate filling in the current date.

Click OK and TextExpander gives you a clean, consistent description.

Choose SugarCRM Industries Quickly
TextExpander can speed up selecting your customer's industry. For example, if you type "tech" into SugarCRM's Industry field, you get two options: Biotechnology and Technology, with Biotechnology being the default.
TextExpander has provided an example Snippet to make assigning the Tech industry faster. Enter the Industry field and type "scti." The Snippet automatically types "tech," arrows down to select the Technology industry, and then presses Return for you.
This Snippet might only save you a second or two, but those seconds add up to minutes and then hours. Time is money. This Snippet demonstrates how TextExpander can shave off the rough edges in your workflow to make your processes smoother and more efficient.
One Last Tip on Snippet Group Prefixes
Be sure to check out TextExpander guide to Snippet prefixes. The Group prefix for our SugarCRM Snippet Group is "sc." When you create a Snippet in a Group that has a prefix, the prefix is added automatically to the beginning of the Snippet's abbreviation. Since the Group prefix is "sc," if you create a Snippet with the abbreviation "vp" the prefix is applied automatically; the full abbreviation will be "scvp." However, if you move that Snippet to another Group without a prefix, the abbreviation is shortened to just "vp". If you move it to a Group with a prefix of "am" then the full abbreviation would be "amvp".
Snippet Group prefixes are a powerful way to make it easier to create Snippet abbreviations and avoid conflicts, but they sometimes confuse new TextExpander users.
Try TextExpander with SugarCRM Today!
Sign up for a 30-day free trial of TextExpander and install the SugarCRM Snippet Group to see for yourself how TextExpander can accelerate your SugarCRM workflow.