Sugar Sell Q4 2020 has been released and is now available for all Sugar Sell customers hosted on the SugarCloud.
In the video below, Clare Evans Dorrian (Chief Marketing Officer), Zac Sprackett (Senior Vice President of Product Management), and I discuss key, recently introduced features across the entire Sugar customer experience landscape:
Sugar Sell Q4 2020 includes the following feature updates:
Sales-Focused Enhancements
Coterminous add-ons: Sellers can now create add-on revenue line items that automatically coterminate with previously purchased services.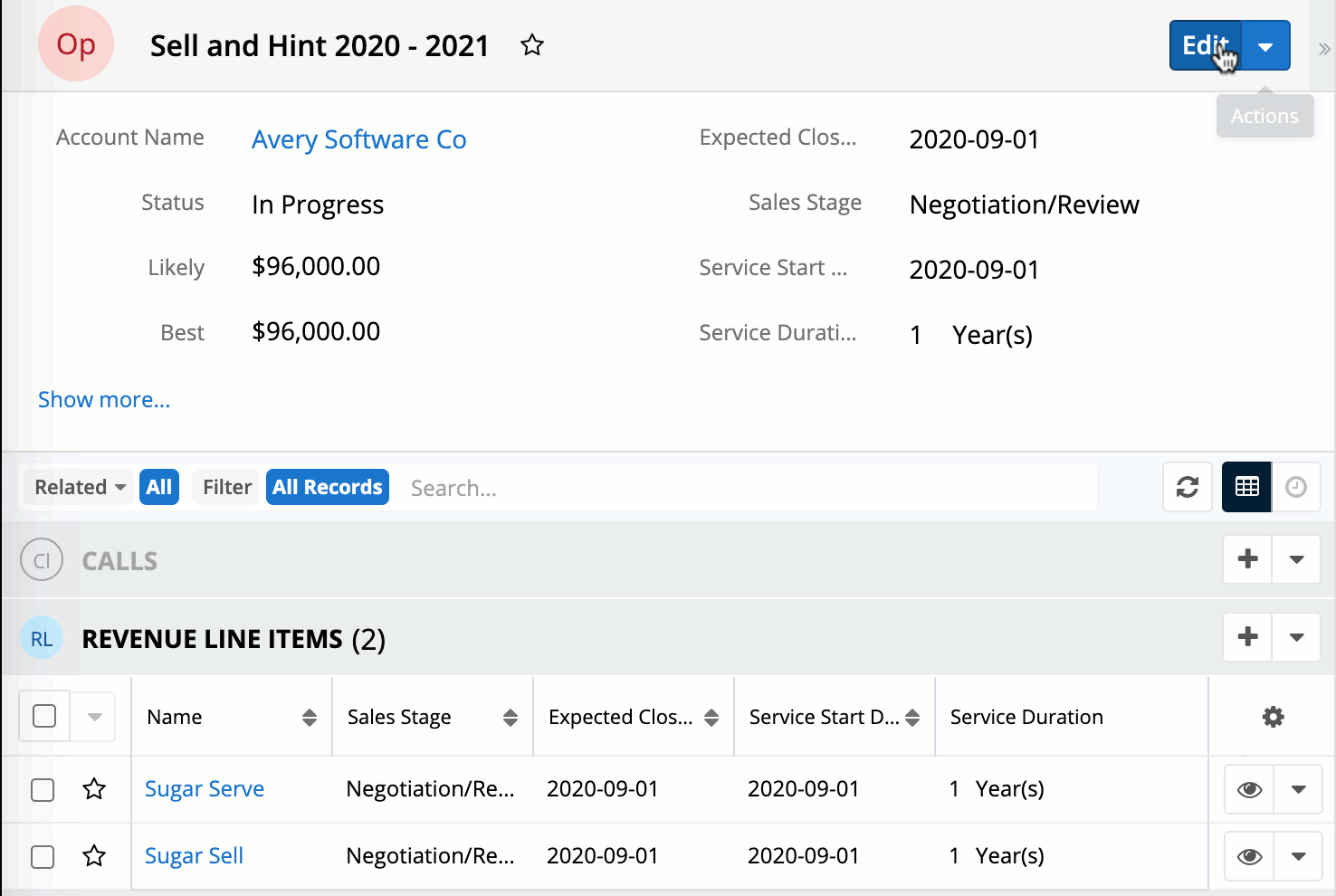 Flexible service durations: The Service Duration field on line items can be modified if the selected product catalog item does not have the Lock Duration field checked.
Duration-based line item calculations: As sellers change the duration of catalog-based service line items, the calculated amount automatically prorates according to the base catalog duration.
Multiple quotes from one RLI: You can now generate multiple quotes from the same revenue line item(s).
Group your report results by account for purchased line items: You can now select the related account as a group-by option for purchased line item reports.
Increased shift visibility: The Shifts and Shift Exceptions subpanels have been added to the Employees and Users modules so you can view the work schedule of each user.
Dashboard and User Interface Enhancements
Flexible Dashboards

Resizable dashlets: Dashlets can now be resized independently of other dashlets by clicking and dragging their lower corners.
Unlimited dashlets: Dashboards can now be configured to include an unlimited number of dashlets.
Auto-saved dashboards: When dashboards are created, or when new dashlets are added or resized on a dashboard, changes are automatically saved.
More information available in New and Improved flexible dashboards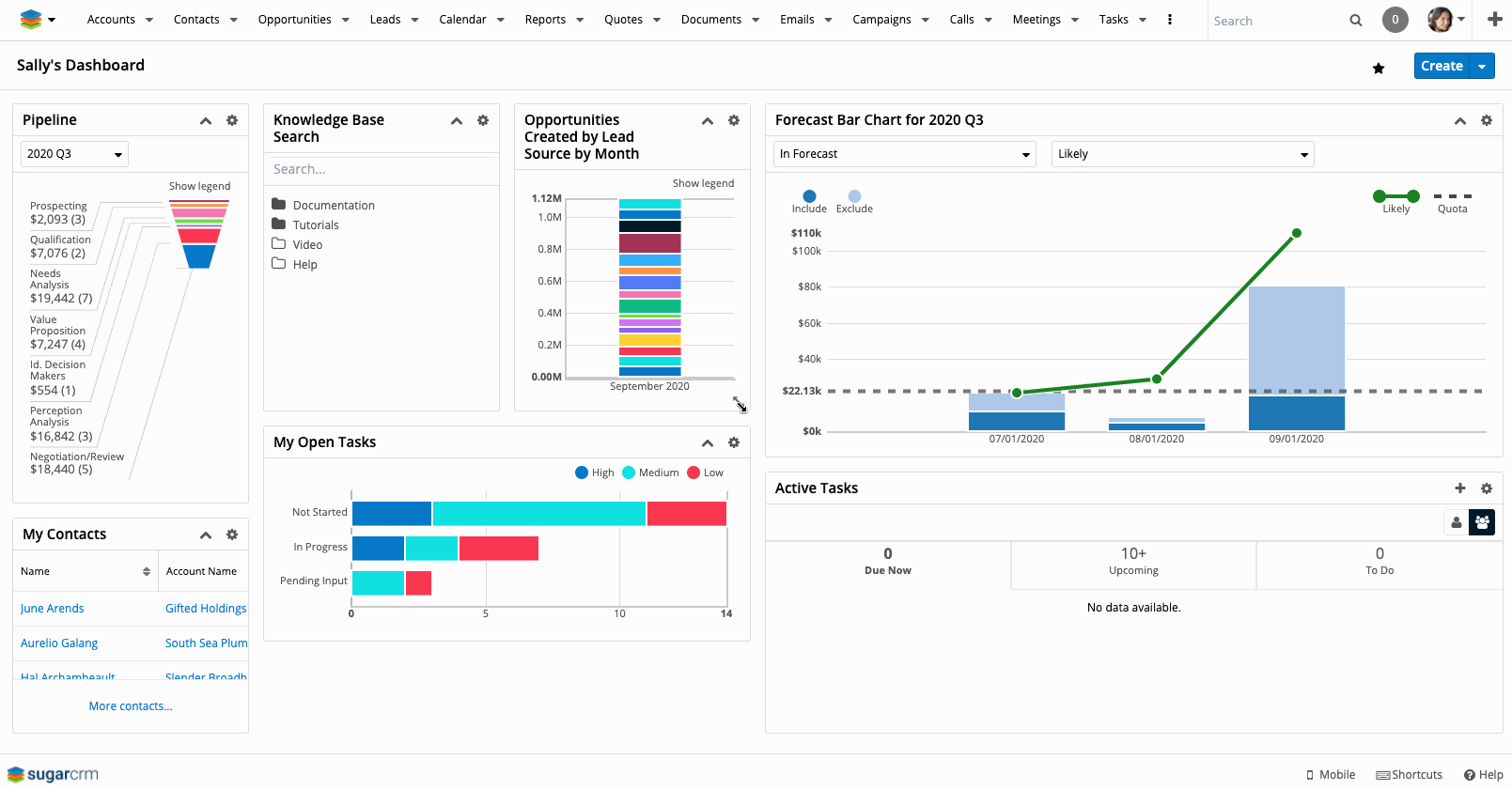 Knowledge Base Search dashlet: The new Knowledge Base Search dashlet allows you to search for articles and browse the tree-based article view.
Contact Interactions dashlet: The Interactions dashlet is now available for the Contacts module.
Audit log for activities: You can now enable Audit Log for the Calls, Meetings, and Tasks modules.
Descriptive logic hook audit logs: Audit log entries generated by a change made via logic hook now show the name of the specific logic hook, if provided, as the source.
Increased list view filter limit: The default number of List View filters has been increased to 50.
Configurable subpanel columns: You can now resize your subpanel column widths, having your changes preserved, and select which default fields you want to display in your subpanels by clicking the Gear icon.
SugarBPM Enhancements
"Is one of" operator in field evaluations: The "is one of" operator is now available in SugarBPM field evaluations on multiselect fields to allow more complex criteria to be represented in one condition.
Relate fields in field evaluations: Relate fields created in Studio are now available in process definition field evaluations so they can be used as criteria in conditions.
Send message to all teams on the record: When sending emails to teams using Send Message and End events, it is now possible to dynamically add all teams on the target record to the recipient list.
Studio and Administration Enhancements
New Studio field types and options

AutoIncrement: An auto-increment field type allows admins to add a unique numerical ID to module records.
Required If: The administrator can make fields conditionally required.

Sugar Logic updates

str_replace(): This new formula lets you replace portions of text within a string.
year(): This new formula lets you return the year value from a date field.
isInList(): This updated formula now lets you pass a multiselect field as a second parameter.

Email and connector security


OAuth2 for Google Mail and Exchange Online: Sugar now supports OAuth2 connections to Google Mail and Exchange Online when configuring the system outbound email, system inbound email, and user email accounts.
Microsoft connector: Administrators can configure the Microsoft connector via Admin > Connectors to allow Sugar to connect to the Microsoft API Services via OAuth2 to send outbound emails as well as receive inbound emails.
SugarIdentity Enhancements
This release also includes additional fixes to address issues in previous releases of Sugar, detailed in the Sugar Sell Release Notes.
Customers hosted in SugarCloud will receive further communication regarding their automatic upgrades shortly per the SugarCloud Policy Guide - Upgrade Policy. Please visit the Supported Platforms page for a complete list of supported browsers and other platform information.
Sugar Q4 2020 Developer Resources
Our Developer Advocacy team has made available the following resources to assist developers with the changes associated in this release:
Any additional questions should be directed to the Dev Club in SugarClub or emailed to developers@sugarcrm.com.
Additional Documentation & Release Notes
To learn more about the new features available, as well as the additional fixes to address issues identified in prior releases, please review the following content:
http://support.sugarcrm.com/Knowledge_Base/Installation_Upgrade/What_to_Expect_When_Upgrading_to_10.2/
---
The Q4 2020 release further advances Sugar's robust suite of customer experience solutions, empowering your marketing, sales, and service teams to collaborate across the entire customer lifecycle for more meaningful, memorable experiences. Learn more about the first intelligent, no-touch customer experience (CX) platform and how to exceed expectations and create customers for life:
This release represents the next step in the SugarCRM quarterly feature delivery model, providing accelerated delivery of new innovations for customers hosted on SugarCloud.
---
To ensure you are up-to-date on the latest information about Sugar Sell, please join the Sugar Sell group in SugarClub, or the other product-specific groups in Explore for additional updates.