SugarCRM is excited to announce the release of Sugar Sell Q1 2021 for all Sugar Sell customers hosted on the SugarCloud. This release includes the following feature updates:
Introducing SugarPredict
SugarPredict A.I. capabilities for automatic lead and opportunity scoring: Sugar Sell now incorporates the artificial intelligence capabilities of SugarPredict to give you predictive insight into your leads and opportunities, enabling you to convert leads and close opportunities faster and more consistently.
Sales-Focused Enhancements
Seamless integration with Sugar Discover: This release of Sugar Sell natively integrates Sugar Discover's revenue analytics dashlets, eliminating the need for Sugar Discover customers to install the dashlets via Module Loader.
Purchase History dashlet: A new dashlet is available that shows all purchases made by the account you are viewing. The Purchase History dashlet can be added to consoles and to record view dashboards for any modules that have a relationship with accounts.
Rollup calculations for purchases: Three new calculated fields - Total Revenue, Total Quantity, and Purchased Line Item Count - are available for the Purchases module, providing a holistic view of an account's purchase history.
Time-aware purchased line item status: A new calculated field in the Purchased Line Items module indicates if the record (i.e. the customer's product or service) is a past, active, or future purchase.
Dashboard and User Interface Enhancements
Focus Drawers: A new icon will appear when hovering over links to Sugar records in the application. On click, a targeted Focus Drawer dashboard reveals a 360 view of the linked record through a set of dashlets that are configurable by admin users and the dashboard owner.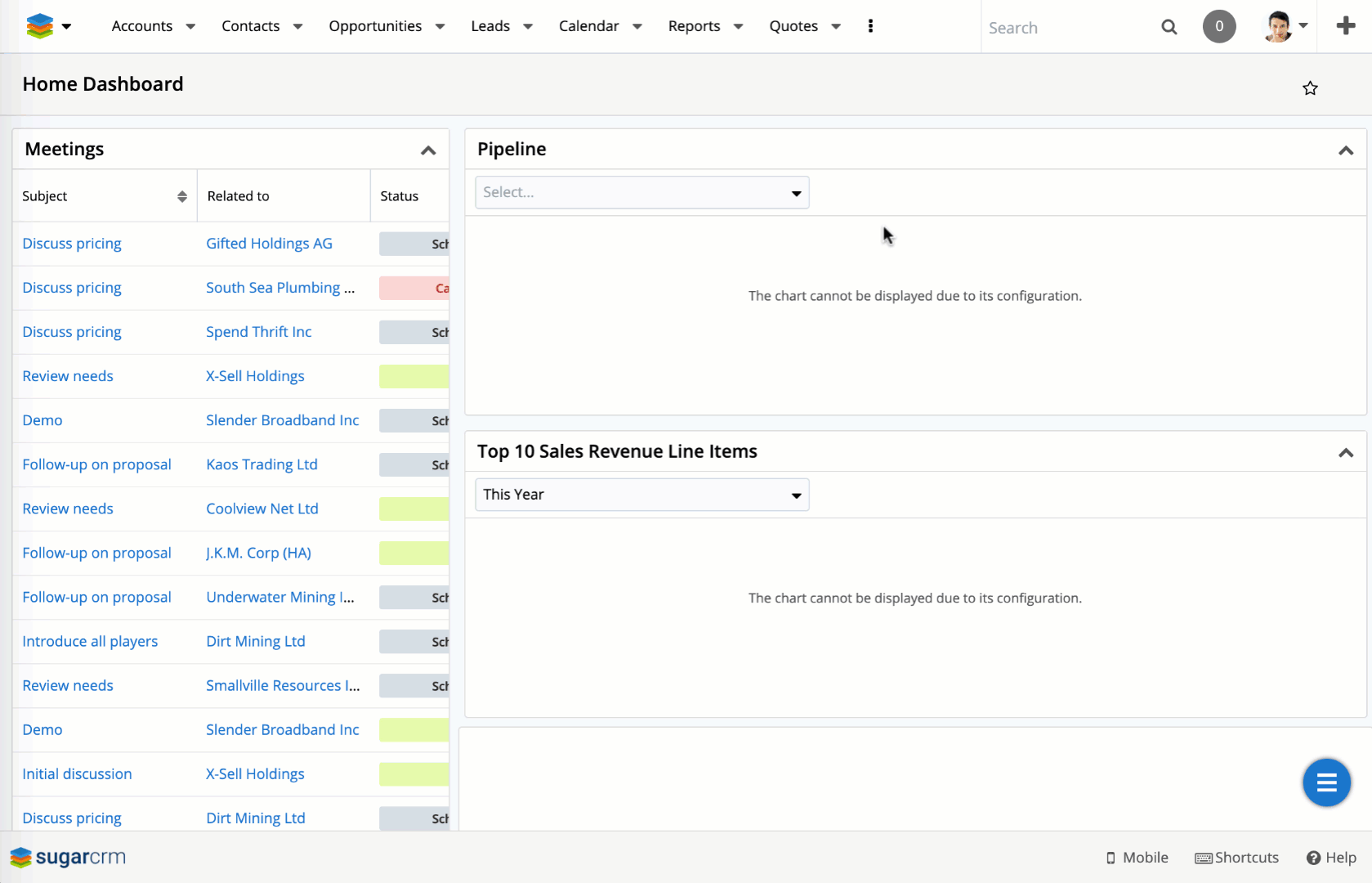 More information about this new functionality can be found in the following SugarClub update:
Dashboard floating actions button: The new floating actions button appears on dashboards throughout Sugar and replaces the dashboard actions menu for common tasks such as creating dashboards, duplicating dashboards, and adding dashlets.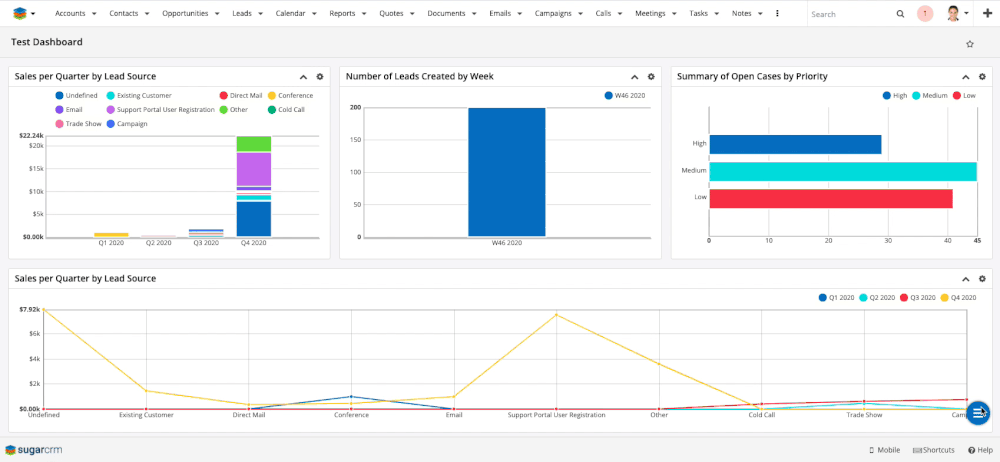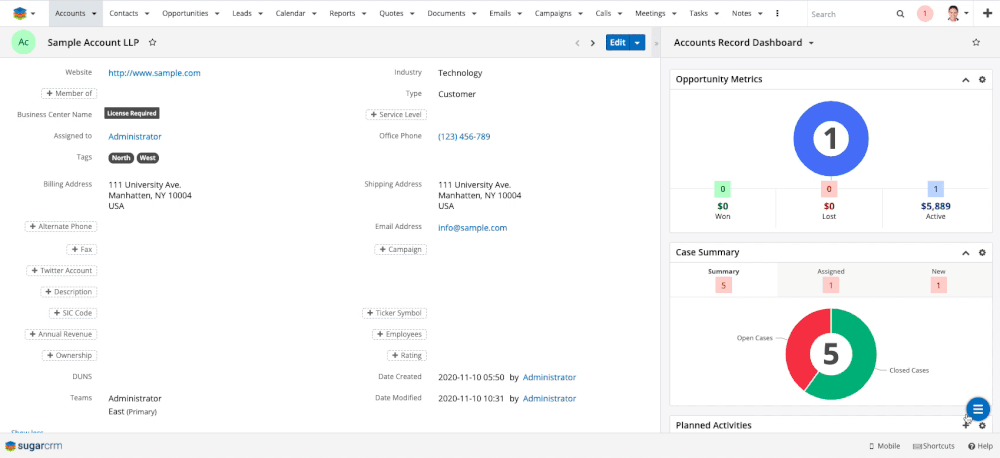 More information about this new functionality can be found in the following SugarClub update:
Multiple note attachments: You can now attach multiple files to notes using the new Attachments field. The system-level "Is Attachment" field can be used to differentiate between directly-created notes and notes that are an attachment to another record (i.e. email, knowledge base article, or other note) in SugarBPM and the Reports module.
Viewing and refreshing reports from dashlets: Previously available to only the owner of a dashboard, the "View Report" and refresh chart options are now available on the Saved Reports Chart dashlet for all users.
Editing records from report drill-through: Users can now edit records via preview pane when drilling through report charts.
Improved console filtering: Administrators can now control the fields available as filters for the tabbed module list views in the Renewals Console by configuring the Search layout in Admin > Studio.
Filtering on inactive users: You can now locate records assigned to inactive users by filtering on user status.
Enhanced filtering for Meetings and Calls: New list view filters show records where the current user is a guest.
Added value for call status: A new value, "In Progress", is available for the Status field on the Calls module.
Preserving field height in edit mode: Text boxes that are expanded in record view remain expanded after switching to edit view.
Copying field values without triggering edit mode: Users can click and drag to highlight and copy text from field values in record view.
Resizing dashlets: Dashlets can now be resized by dragging their sides, bottom, or corners.
SugarBPM Enhancements
Combined Start events: Start events can now be applied to both new and updated records at once so that it is no longer necessary to create process definitions with multiple start events in most cases.
Link to a process in an email: It is now possible to configure Activity elements to send an email to the selected process user with a link to the process awaiting their execution.
Studio and Administration Enhancements
Data Archiver admin utility: A new module lets administrators move non-essential records to a hidden archive table or hard-delete them from the database.
Read-only field option: Admin users now have the ability to make a field read-only always or conditionally.
More field types available for mass update: Admin users can now enable mass update for most field types in Sugar including checkbox, multiselect, and date field types, among others.
New Sugar Logic function: A new function for calculated fields, dayofmonth, has been added to extract the number of the day of the month from a date or datetime field.
Studio access to relationship-based relate fields: Previously, relationship-based relate fields could not be edited in Studio. Now, they are in the module's Fields list in Studio, where you can adjust their field-level settings (e.g., enabling them for audit).
Improved click-to-call: When the Click-to-Call option (formerly called SkypeOut Integration) is enabled, all phone number fields in Sidecar modules are displayed as clickable links so you can dial out using your computer's default telephony application.
New schedulers: Two new schedulers have been added. The Run Active Data Archives/Deletions job performs the archive or delete actions defined by the new Data Archiver module; the Process Time-Aware Schedules job automatically updates the statuses on purchased line item records.
Package scan health check: Package Scanner now runs a full health check against module loadable packages before installation.
This release also includes additional fixes to address issues in previous releases of Sugar, detailed in the Sugar Sell Release Notes.
Customers hosted in SugarCloud will receive further communication regarding their automatic upgrades shortly per the SugarCloud Policy Guide - Upgrade Policy. Please visit the Supported Platforms page for a complete list of supported browsers and other platform information.
Sugar Q1 2021 Developer Resources
Our Developer Advocacy team has made available the following resources to assist developers with the changes associated with this release:
Any additional questions should be directed to the Dev Club in SugarClub or emailed to developers@sugarcrm.com.
Additional Documentation & Release Notes
To learn more about the new features available, as well as the additional fixes to address issues identified in prior releases, please review the following content:
What to Expect When Upgrading to 10.3 (Q1 2021)
Sugar Sell 10.3.0 (Q1 2021) Release Notes
---
The Q1 2021 release further advances Sugar's robust suite of customer experience solutions, empowering your marketing, sales, and service teams to collaborate across the entire customer lifecycle for more meaningful, memorable experiences. Learn more about the first intelligent, no-touch customer experience (CX) platform and how to exceed expectations and create customers for life:
This release represents the next step in the SugarCRM quarterly feature delivery model, providing accelerated delivery of new innovations for customers hosted on SugarCloud.
---
To ensure you are up-to-date on the latest information about Sugar Sell, please join the Sugar Sell group in SugarClub, or the other product-specific groups in Explore for additional updates.